2023 Vuelta a Espana - Angliru to Madrid
Sportive Breaks takes you to all the grand tours. We are an official tour operator for the 2023 Vuelta a Espana.
Our final tour of the 2023 Vuelta a España (Tour of Spain) starts and finishes in Madrid. The tour is divided between central Spain and Asturias in the north where, during the middle stages of the tour, you can test yourself on some of Europe's most challenging climbs. See iconic Asturias' climbs return and 2 new climbs premier in this years' Vuelta. This is your chance to check Lagos de Covadonga, La Cobertoria and El Angliru off your bucket list in one trip. 
The tour kicks off in Madrid before this Vuelta cycling adventure moves north to follow Stages 16 to 21. We stay 5 nights in Oviedo, the heart of Asturias, before a 1 night transition to the walled town of Avila and 2 nights in central Madrid.
Spread your payments: Our interest-free payment plan allows you to spread out payments for your booking.
Watch the Race for Red from up close: Join us for the exciting final stage of the 2023 Vuelta a Espana. See the peloton ride through the Capital city and watch the winner crowned on the final day in Madrid.
Live race viewing from Vuelta Hospitality Areas: Witness the excitement of live racing in comfort from official Vuelta hospitality areas: Stage 17 VIP Finish at Angliru, Stage 18 Cross the Finish Experience and Finish VIP, Stage 19 Start Village and Neptuno hospitality on the final stage in Madrid.
Ride the Lagos de Cavodonga: Not on the race route, this stunning climb is a must do when in Asturias.
Cycle the Picos de Europa National Park: Spain's version of the Dolomites with its alpine limestone peaks, pristine forests, lakes, and deep canyon roads!
Excellent hotels included: Enjoy our 'Balneario' (spa resort) in the Asturian mountain landscape, our hotel in the walled city of Avila and finally, a hotel in the center of Madrid.
LIVE race viewing:  Experience 6 different live race viewings; 3 summit finishes, 1 stage start, 1 mid-stage viewing and 1 sprint finish. Get up close and personal to all the Vuelta action with our VIP inside race access!
Ride the Angliru: Test yourself on L'Angliru one of Europe's toughest road cycling climbs. We think it is harder than the Mortirolo & Zoncolan in Italy!
The final showdown in Madrid: Watch the 2023 Vuelta celebration ceremony from Cibeles in the heart of Madrid.
5 nights in Las Caldas Thermal Villa, Asturias
1 night in the walled city of Avila
2 nights in Madrid City Center – walking distance to the finish of the final stage
1 optional pre-tour night in Madrid
Orbea Avant M30 carbon road bike – Shimano 105 at $245
Supported rides every day
Official Vuelta Hospitality included
Breakfasts and dinners (breakfast only in Madrid)
Airport transfers from/to Madrid
Transportation throughout the tour
Las Caldas near Oviedo
The Hotel Las Caldas is a delightful hotel near Oviedo, where you will find the thermal waters of Las Caldas, internationally renowned for their healing properties. The Hotel Las Caldas is situated perfectly for day trips and excursions.  Las Caldas is the starting point for more than 1,000 miles of cycling and mountain bike routes that pass through the National Park of Las Ubiñas, the Senda del Oso and the Fuso de la Reina pedestrian path.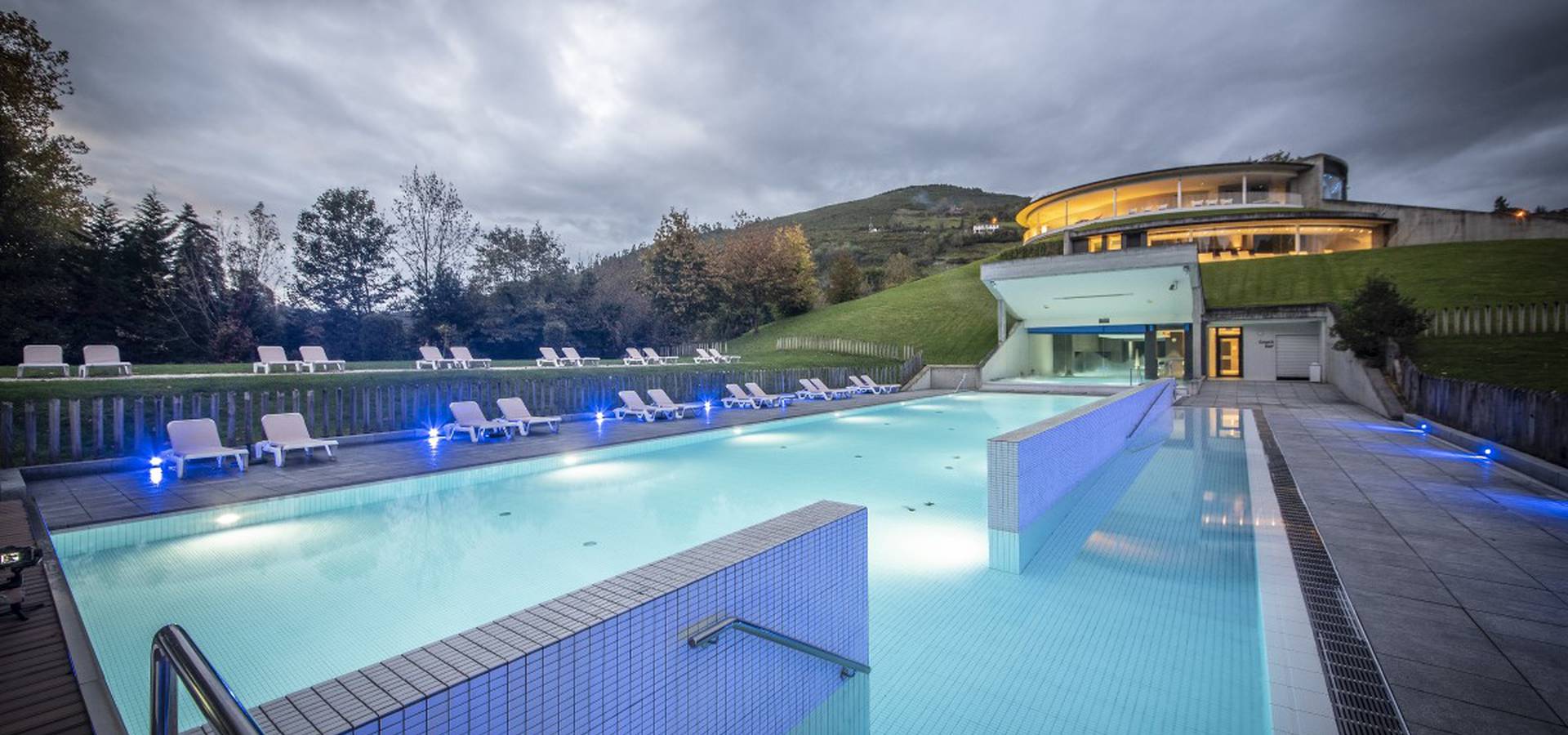 Avila
Ávila is a World Heritage Site. Its impressive city walls, the beautiful 12th century Cathedral, Saint Peter's church, and the Saint Vincent Basilica are examples of its beauty. Discover its streets, people, and traditions on foot.
Palacio de Los Velada Hotel is next to the Cathedral of San Salvador and is the ideal place to enjoy the center of Ávila. This historic Castilian city is surrounded by incredible 12th century walls and is home to numerous churches, cloisters, and convents, which host centuries of history and art.
Madrid
Except on special occasions, Madrid is the classic location for La Vuelta's grand finale. Cibeles, Neptuno, Colón, Gran Vía, the Prado… all form a part of the history of La Vuelta's final stage, and provide the setting for the final winners' podium. Madrid holds a very special place in the history of the race and will continue to do so in 2023.
Asturias
Get ready to climb as our tour hits the high peaks of the Somiedo, Ubiñas-Mesa, Picos de Europa (our favourite!) and Guadarrama National Parks. Enjoy access to 5 VIP Vuelta experiences! On this tour you will witness high altitude finishes in Bejes, on L'Angliru, and atop La Cruz de Linares. Two of these 3 summit finishes will be first-time Vuelta contenders!
Guadarrama
As we head back towards the Spanish capital you will watch the peloton at the Stage 19 start-line before riders hit the undulating roads between Avila and Madrid in the Guadarrama mountains. Stage 20 will be a dramatic  stage with ten category 3 climbs over more than 125 miles.
Madrid
To cap things off, enjoy the twilight Stage 21 race finish on the boulevards of Madrid and from the Neptuno hospitality venue as we wait to see who will be crowned the 2023 Vuelta champion. An incredible week of cycling and watching Spain's premiere road race!
We have a team of highly experienced professionals who have been organizing cycling trips for more than 25 years.
We offer the largest selection of European Gran Fondo and Cyclo-Sportive events.
Our interest-free payment plan allows you to spread out payments for your booking. *Selected products. Terms and Conditions apply.
We know the routes and we know the roads. We know how the event works and the best hotels for the start and finish. We organize everything for you: transfers, bike transport, additional fuel stops, local guides, mechanical support and more.
Find Out More About Other Cycling Hospitality With Sportive Breaks

2024 Tour de France – The Alps to Nice Tour 8th – 22nd July 2024 See our flexible bookings payment plans. View Details. Days 15 Nights Cycling and Spectating pre-register £100 Book now Book now 2024 Tour de France Tour with Sportive Breaks The 2024 Tour de France dates are: Sat 29 Jun 2024 – […]