UCI Gravel World Championships 2023
The 2023 UCI Gravel World Championships will be in Veneto, Italy on Saturday, October 7 & Sunday, October 8, 2023. Qualify in Canada (Blue Mountains Gravel Fondo) or the US (Highlands ravel Classic) in Fayetteville or any other event in the 2023 UCI Gravel World Series and you will have a chance at the rainbow jersey in Italy! 
The UCI Gravel World series is a series of qualifier events in different countries that allows amateur cyclists to qualify for the World Championship by finishing in the top 25% in their age category.  The UCI Gravel World Championships first took place in 2022 with a stellar field of pro cyclists sharing the start line with amateur riders. Check out the full list of qualifying events here: https://ucigravelworldseries.com/en/calendar/
The women elite race on Saturday, October 7 on a flat & fast 87 mile course while the men elite race 120 miles on Sunday.  The men's race covers the same route the women ride with the addition of two local laps of 16.7 miles.  All races start in Vicenza with finish in nearby Cittadella.
Amateur and masters' riders have the opportunity to race with the pros. Starting in later waves, they battle it out for a world title in their respective age groups. Female ag group qualifiers and men (50+) race on Saturday while men (age 19 – 49) start behind the men elite on Sunday.
Spread your payments: Our payment plan is an interest-free payment method that allows you to spread your payments out for your booking.
Share the same start line as professional riders: In 2022 a host of top stars were on the start line in Italy. 2023 promises another great line-up.
Book with the official travel partner : We offer the best support and have hotels in the best locations. Our team's local knowledge and wealth of experience will give you an advantage over your competitors.
Guided warm-up rides: Daily warm-up rides with local guides and support vehicle to show you the terrain and beauty of this area.
Mechanical support: Available all weekend, our expert mechanics are there to make sure your bike is race ready.
Breakfast and Dinner included
Mechanic available all weekend
Guided rides with support van
Transfer to the start in Vicenza
At our hotel after the race
Additional Extra - Bike rental
Additional Extras - Transfer
Airport Transfers from Venice Marco Polo Airport
Join the Sportive Breaks team and stay with us in Cittadella for 3 nights at our Team Hotel. Your package includes all support and a guided warm-up ride from our team in the run up to your event. Airport transfers, bike rental and massages are also available.
2022 UCI Gravel World Championships
In 2022, 552 riders registered for the first edition, representing 38 different nationalities. In the Women Elite category on Saturday, French multi-discipline talent Pauline Ferrand Prevot took the world title and the first Gravel rainbow jersey.
In the Men's Elite Race on Sunday 9 October, several talented cyclists from several different cycling disciplines took the start. Mathieu van der Poel was on the start line with former MTB marathon World Champion Alban Lakata and road cyclists like Peter Sagan, Greg Van Avermaet, Alexey Lutsenko, U23 world champion Yevgeniy Fedorov, Magnus Cort Nielsen, Zdenek Stybar, Davide Ballerini, Daniel Oss, Lilian Calmejane, Carlos Verona and Alessandro De Marchi. Belgian Gianni Vermeersch took the inaugural title.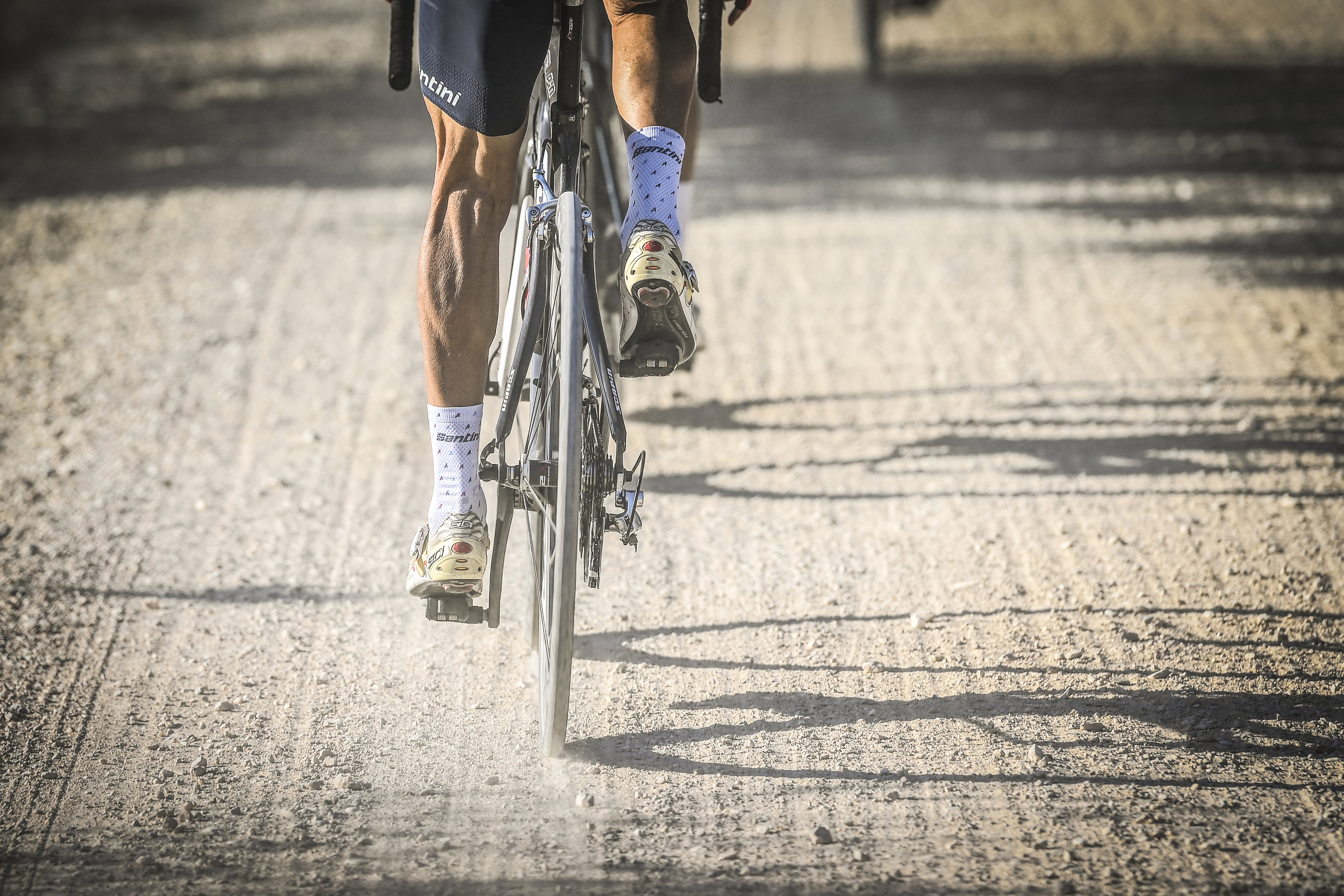 Each UCI Gravel World Series event of the 2022-2023 seasons grants qualification rights for the 2023 UCI Gravel World Championships. Events Calendar available here. Based on the results of each race, the first 25% of athletes in each age group will be qualified for the UCI Gravel World Championships. The 25% is calculated based on the number of starters in each age group, and not on the number of riders having finished the race. In addition, the first three riders of each official age category will qualify directly for the UCI Gravel World Championships, independently of the number of starters in that age group. Riders must finish the race to gain qualification. The age categories of the UCI Gran Fondo World Championships are: All rules are available here
We have a team of highly experienced professionals who have been organizing cycling trips for more than 25 years.
We offer the largest selection of European Gran Fondo and Cyclo-Sportive events.
Our interest-free payment plan allows you to spread out payments for your booking. *Selected products. Terms and Conditions apply.
We know the routes and we know the roads. We know how the event works and the best hotels for the start and finish. We organize everything for you; transfers, bike transport, additional fuel stops, local guides, mechanical support and more.
Find Out More About Other Cycling Hospitality With Sportive Breaks