UCI MOUNTAIN BIKE DOWNHILL WORLD CHAMPIONSHIPS 2023
Official fan and amateur participant travel and experiences provider of the 2023 UCI Cycling World Championships in Glasgow and across Scotland
The UCI World Championships are coming to Scotland in August 2023. Sportive Breaks are the official fan and amateur participant travel and experiences provider of the 2023 UCI Cycling World Championships in Glasgow and Scotland.
The 2023 UCI Downhill MTB World Championships will take place at the Nevis Range, Fort William as part of the first ever multi-discipline Cycling World Championships, taking place throughout Scotland between 3 – 13 August. The Downhill Mountain Bike World Championships will take place on Friday 4 August (Juniors) and Saturday 5 August (Elite) with Junior qualifying on the Thursday.
These Championships, featuring 12 other cycling sports in addition to Downhill will be the biggest showcase of two-wheeled action that the world has seen. It will be the second time that the Downhill World Champions will be decided at Fort William, following the very successful event in 2007.
The World Championships are the one-off, single chance to win World Champion medals and coveted rainbow jerseys, riding for country first and trade team second.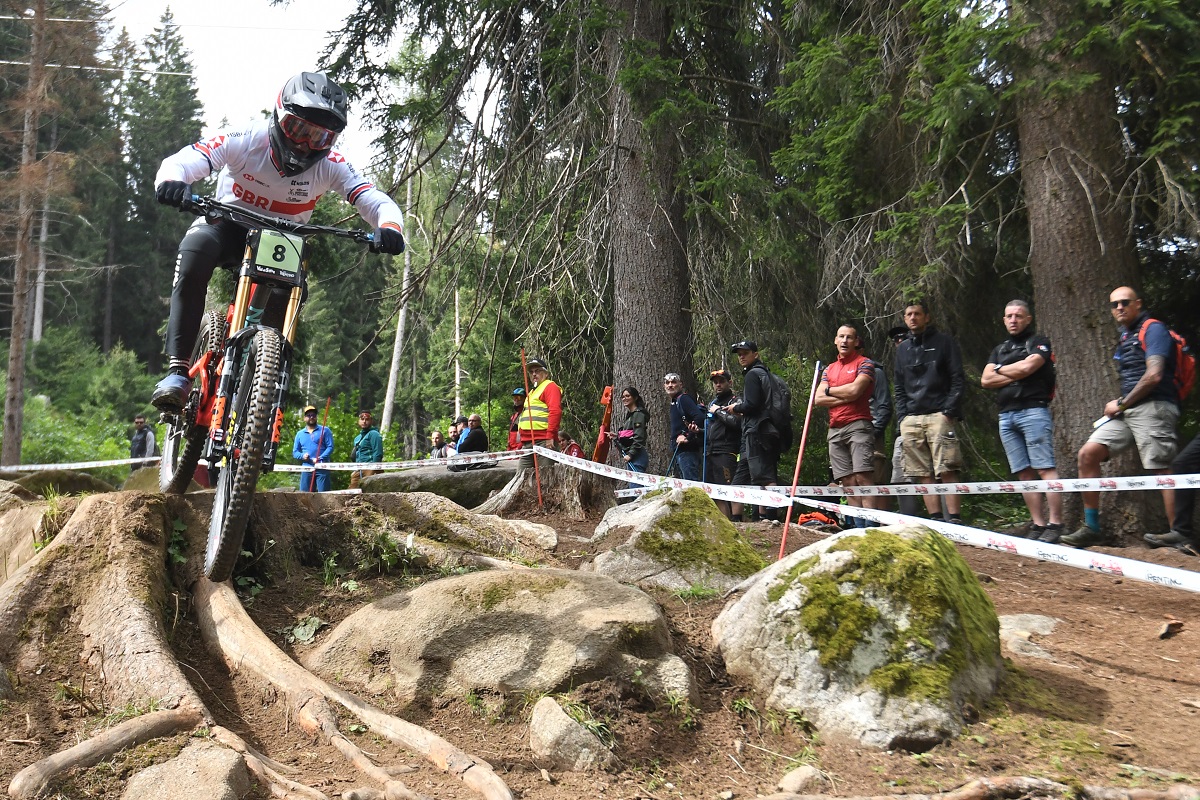 Choice of packages: Book Hospitality to watch the elite finals on Saturday with hotel in Tyndrum for two nights or book standard tickets for both finals days with a hotel stay in Fort William for 3 nights.
Book with the official travel partner: Official tickets and the best access with Sportive Breaks.
Choose your trip to the 2023 UCI Mountain Bike Downhill Championships
3 - 5 August
The course at Fort William is one of the most mentally and technically challenging there is. Stretching to 2.8 km long, it drops 550m and every single rock on the way down could potentially end a rider's run… and there are a lot of rocks. Riders need to be strong, fit, and fearless just to make it through qualifying. For the finals, the drama keeps rising as they make their way down in reverse order of qualifying quickness and fractions of a second determine their fates. You don't want to miss the legendary Fort William finish, where a huge crowd waits to welcome each and every rider that masters the mountain.
Available packages for the 2023 UCI Mountain Bike Downhill World Championships in Fort William
Book this package to get exclusive VIP hospitality in Fort William for the elite finals on Saturday 5 August.
Included with this package:
Hotel in Tyndrum for 2 nights
Breakfasts and evening meals
Transfer from Glasgow Buchanan Street Bus Station on Friday 4 August
Return transfer from Tyndrum to Fort William on Saturday 5 August
VIP Hospitality for the Elite Downhill World Championships on Saturday 5 August – please see below what is included with this* Please refer to the itinerary to read more about what's included with hospitality.
Return transfer back to Glasgow on Sunday 6 August
ABTA protected.
Also available at a supplement
Single occupancy supplement
About Tyndrum
Tyndrum is a small village located on the A82, 5 miles north of Crianlarich. There is a train station with links to Fort William, Oban and Glasgow. Surrounded by stunning lochs and mountains, Tyndrum is an ideal location to explore the Scottish outdoors and wilderness.
Prices starting from £479
Hotel in Fort William for 3 nights (3rd, 4th, and 5th of August)
Breakfasts and evening meals
Tickets for the Downhill World Championships on Friday 4th and Saturday 5th August
ABTA protected.
Also available at a supplement
Single occupancy supplement
Prices starting from £929
Package 3 – Hotel in Fort William for those with their own tickets
Hotel in Fort William for 3 nights (3rd, 4th, and 5th of August)
Breakfasts
Also available at a supplement
Single occupancy supplements
Prices starting from £299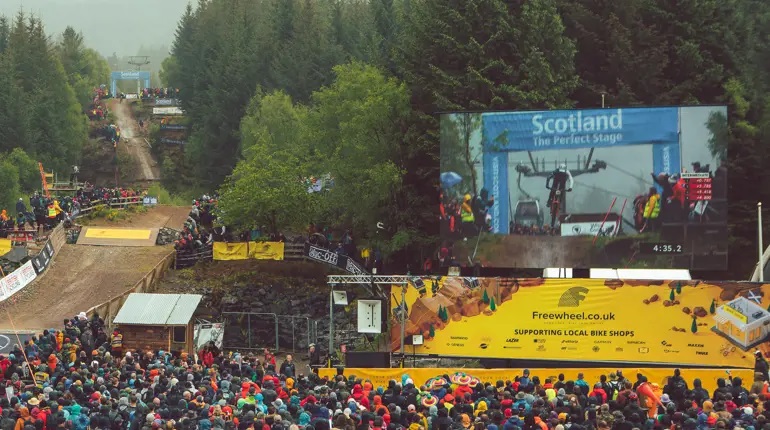 Itinerary – Package 1 – VIP Hospitality
Please make your own arrangements to arrive in Glasgow and meet us at our collection point at Glasgow Buchanan Street Bus Station if you wish to make use of this service.
The transfer from Glasgow to Tyndrum takes about 90 minutes to two hours.
Our hotel
Hotel Ben Doran is in the mountain village of Tyndrum on the northern edge of the Loch Lomond National Park. The hotel's bar lounge and restaurant have views of the scenery to enjoy. All rooms have en-suite facilities, free Wi-Fi, tea making facilities and a hospitality tray.
The hotel serves a full breakfast, varied evening meal menu and has a well-stocked bar. Please refer to the hotel details page of the hotel to find out more about what's included with your stay.
This morning after breakfast our coach will transport you to the event at the Nevis Range, just 5 miles outside Fort William for a full day's activities.
The exciting day of racing is the Men & Women's Elite Finals with the best riders in the world all vying for the World Championship title on the testing Fort William track. With the hospitality tickets, you will be able to get up close and personal with the action by taking the gondola to the top of the hillside and watching riders leaving the start hut. You will be able to enjoy the stunning Scottish scenery from the gondola and watch the riders flying down the track below you. In the finish area you can walk around the Expo, and enjoy a prime hospitality spectator area, where riders are cheered in by the crowds and live timing screens show the best of the action.
Included with Hospitality in Fort William
Priority drop off at the event arena for our vehicle
Gondola access to travel from the event arena to the race start on Aonach Mor hillside
Lounge Space – Dedicated space with TV feed and easy access to event. Casual lounge seating and standing arrangement.
Dedicated spectator area for hospitality guests
Food – Hot food served at agreed times.
Beverages – Alcohol service during agreed times. Tea, coffee, and water available throughout
Toilets for exclusive use of Hospitality Clients
After breakfast, please check out of the hotel and we will transport you back to Glasgow in time to watch the thrilling men's UCI Cycling Road Race World Championships arrive into the city centre.
Itinerary – Package 2 – Standard Tickets
Itinerary – Package 3 – 3night hotel (3rd-5th)
More About the 2023 UCI Mountain Bike Downhill in Fort William
Venue
Fort William and Lochaber is very easy to get to regardless of where you are travelling from. The area is extremely well serviced with good rail and road links, and Glasgow and Inverness airports are 98 and 70 miles respectively from Fort William. A lot of people also fly into Edinburgh or Glasgow airport from other UK airports. Glasgow airport is 100 miles and Edinburgh is 145 miles from Fort William. There are also flights into Prestwick Airport in Ayrshire which is about 45 minutes south of Glasgow and 150 miles from Fort William.
About the Event
The UCI MTB Downhill World Championships return to Fort William for the first time since 2007, however there has been a UCI World Cup event held here every year since. Fort William is a firm favourite with the riders, with the long and challenging course, extreme weather conditions on the exposed hillside and huge crowds of passionate fans scattered down the track and in the finish arena.
At the 2022 World Cup, Nina Hoffman took Germany's first ever victory in Fort William – topping a podium stacked with talent. Camille Balanche and Myriam Nicole are consistently on the podium at World Cup races, and 2022 World Champion Valentina Holl will be looking to repeat the feat in 2023 at Fort William.
In 2022, it was French dominance in the Men's DH with Loic Bruni, Amaury Pierron and Loris Vergier locking out the World Championships podium on home soil in Les Gets. With the unpredictability of changing track conditions in Fort William and an almost 5-minute course riders will be tested to their limits and anything can happen. Home hopes will rest on the shoulders of 2020 World Champion Reece Wilson from the Scottish borders.
The Junior races are where British talent will be on show. In Les Gets 2022, young talent Jordan Williams took the World Championship title and the rainbow jersey, while in the girls there is now a steady stream of British riders featuring on the podium of World Cup races.
Important information
The UCI MTB DH World Championships take place at the Nevis Range, on the north face of Aonach Mor, the 8th highest mountain in Scotland. As this event takes place in a remote location in the Scottish Highlands, you should come prepared to spend all day outdoors and for changeable weather weather. Sturdy shoes or walking boots are recommended to get the most out of the experience and to be able to adventure up the hillside to spectator spots, and a good waterproof jacket will protect against the elements. It's not all rain the Scottish Highlands, and some sunscreen and a hat will make sure you can make the most of the sunshine too.
It will also be peak midge season – those small biting bugs that Scotland is so famous for! Pack some insect repellent and consider a midge head net for some extra comfort.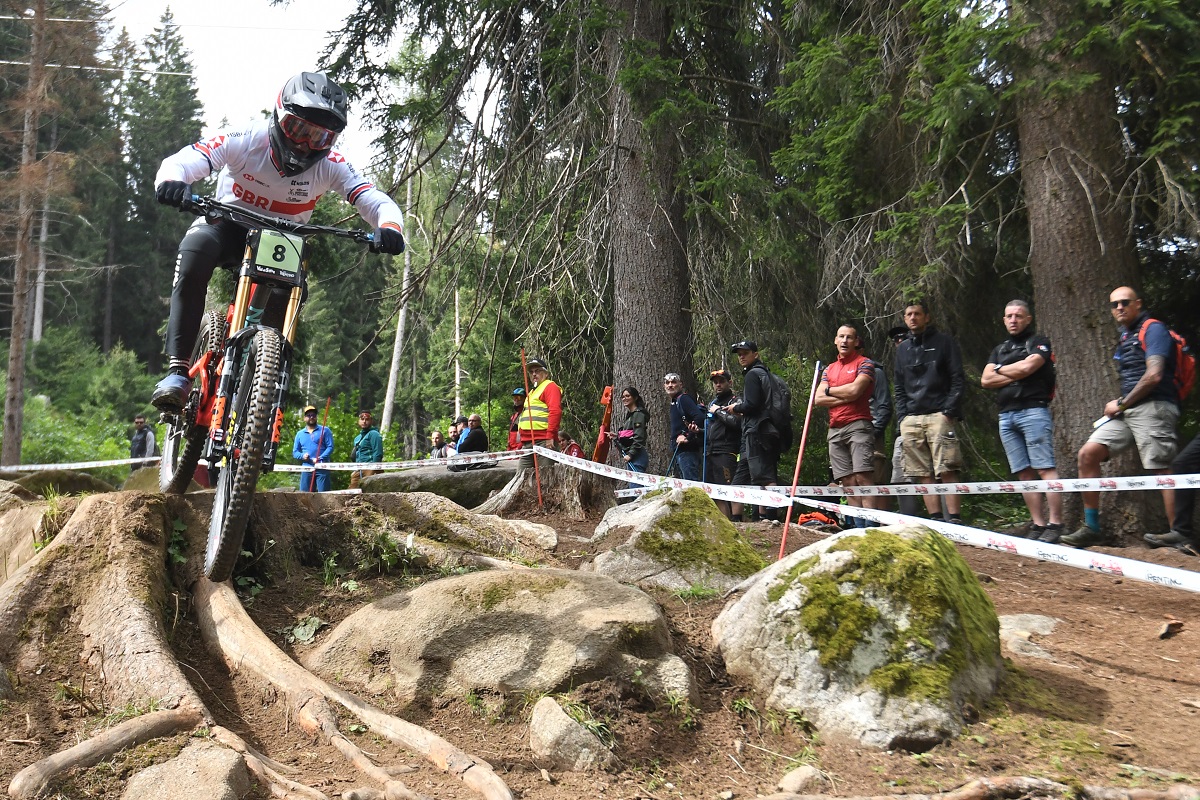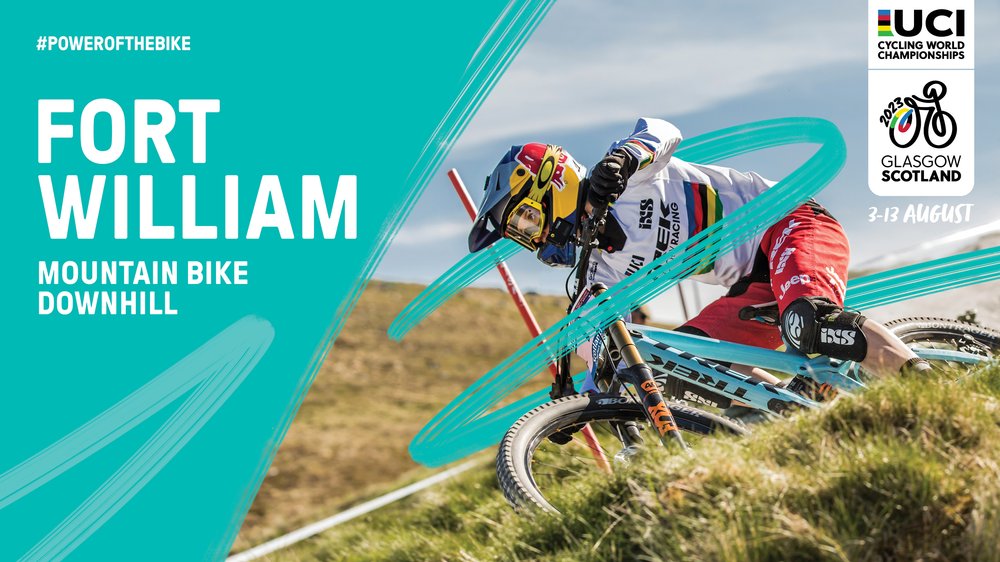 2023 UCI Cycling World Championships
3 - 13 August
In the first event of its kind - never seen nor cycled before - the world's greatest riders will come together in Glasgow and across Scotland in August 2023 to compete at the highest level over thirteen world championships. Across various venues in Scotland we will celebrate cycling and cycling culture for the first time with this many cycling disciplines on show in the same location. Don't miss out and be part of this once in a lifetime event with Sportive Breaks