Gent Wevelgem Hospitality
VIP HOSPITALITY FOR THE 2024 GENT WEVELGEN with SPORTIVE BREAKS
Sunday 24th March 2024 (TBC)
HOSPITALITY TICKETS FOR GENT WEVELGEM
Gent Wevelgem - in flanders fields
Also known as the "The Wind Classic" this historic race has been held since 1934 and is part of the Flemish Cycling week.
After starting in Ypres the riders will take on a course through the West Flemish Hills tackling cobbles, difficult terrain and tough climbs.
Gent Wevelgem is packed with excitement and even though it has a flat finish its the most difficult for the sprinters with two ascents of the steep and fully cobbled Kemmelberg climb. Come join us on Sunday 24th March to watch the race unfold!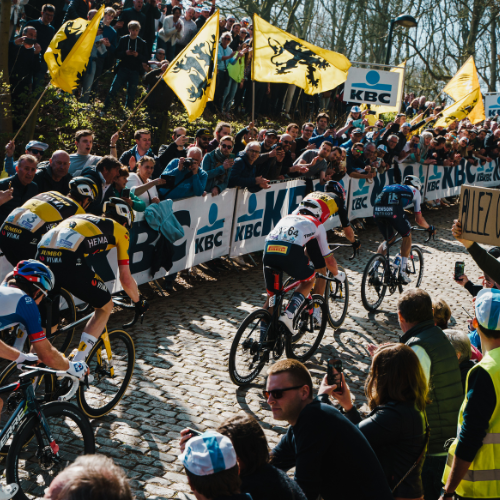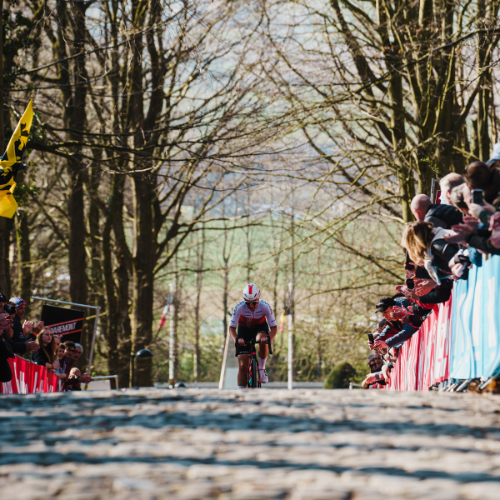 Kemmelberg VIP
This package will take you to the top of the Kemmelberg where you will be in the heart of the action on one of Flanders most iconic cobbled hills. From 12:00-18:15 you will see the Womens Elite race once, the Mens U23 twice and the greatest cycling champions, the mens elite. It is likely you will see the winner decided on this climb! 
Baneberg VIP 
A unique location to experience the race, this steep, challenging climb. Escape away from the hussle and bussle with a ride on a chair lift above the vineyards. Then immerse yourself fully in the racing experience with a cosy atmosphere.
From 8:30 – 11:00 in the Market Square of Ypres you will enjoy the beautiful ambiance at the Market Square from the front row. Combing an extensive breakfast with the Men's and Women's elite team presentations and roll out to the start line. After the Men's race you can stay for some local U19's and U23 racing. 
VIP Kemmelberg and Start in Ypres
Make the most of your day by combing the start package above with the Kemmelberg. After enjoying breakfast and seeing the riders leaves to tackle the course. The organisers will take you to the most iconic cobbled climb, The Kemmelberg. Here you will be in the heart of the action and it's most likely where the winner of the race will be decided. You will see the Women's Elite pass by along with Men's U23 twice and the Elite Men pass by twice.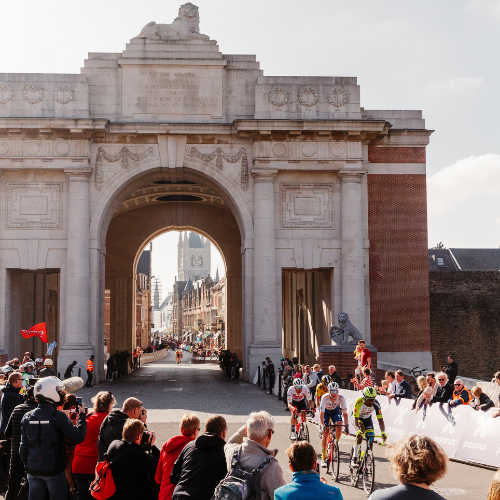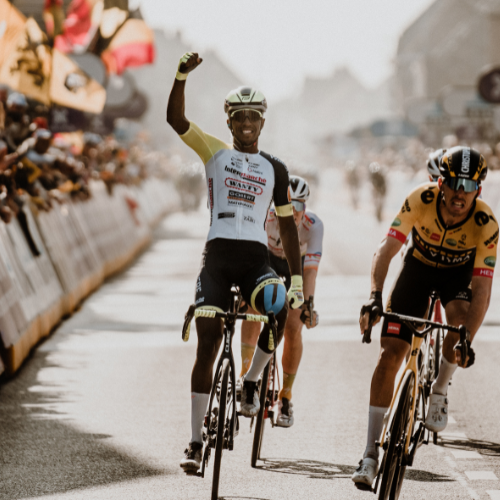 VIP Finish in Wevelgem
14:00 – 20:30
As the riders battle it out for the win, be at the finish line to see who will take the top step on this years podium. After all the excitement you will enjoy a dining experience with other cycling enthusiasts.
VIP Ypres & Wevelgem
8:00 – 20:30
A whole day experience. Start your day in Ypres where you will see the team presentation, the riders leaving to tackle the course and enjoying an extensive breakfast. You will then be taken to Wevelgem where you will be in prime position to see the winner cross the line. Here you will enjoy a dining experience with other cycling enthusiasts.
Bespoke Gent Wevelgem Experiences
Let the trip planners at Sportive Breaks create your bespoke Gent Wevelgem experience for you. The sky is the limit.
Find out more about other Cycling Hospitality with Sportive Breaks