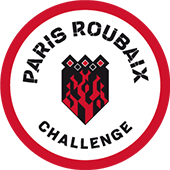 Paris Roubaix Challenge 2024
Experience the most famous one day race in the world and the most brutal sportive of the year in one weekend. Choose from 3 Sportive distances and ride the cobbles, finishing in Roubaix's famous velodrome. 
Long Distance event
The 105 mile event is back in 2024 for experienced cyclists who expect to average 13.2 miles/hour over the distance (including 31 miles of cobblestones).  Entries are limited as the Paris–Roubaix Femmes takes place here on the same day.   
2024 Paris Roubaix
The day after the Roubaix Challenge you can watch as the pros take on the cobbles. Several viewing options are available with Sportive Breaks. 
Spread your payments: Our payment plan is an interest-free payment method where you will have the opportunity to spread payment for your booking.
Hotel in Roubaix: Our hotels are well-located in Roubaix within easy riding distance of the velodrome.
Entries with choice of distance available: Choose from all sportive distances. All Sportives start and finish at Roubaix Velodrome apart from the long distance start which is in Busigny. Transfer to start included with 105 mile sportive (90 minutes).
Watch the Pros in the Velodrome: Inside velodrome access on Sunday included. 
Bike rental: Rent from $175 for the weekend. Mechanic on hand for fitting.
Non-rider discount: Supporters and riders who have secured their own entry receive a discount of $60
"Entry Only" available: Purchase an entry without hotel. All distances start and finish in Roubaix apart from long distance which starts in Busigny (90 mins from Roubaix). Long distance entry includes transportation to the start in Busigny.
To Long Distance (105 Mile) Start (90mins)
Pro Race Spectator options
Access to the inside area of the velodrome included on Sunday
Velodrome access on Pro race day
Access to the inside area of the velodrome included
From $175 for the weekend
Airport transfers at set times at $60 one way/$120 return
There are 3 Paris Roubaix Sportive distaces (43, 90 & 105 miles), all of which finish in the famous Roubaix velodrome. The short & medium Sportives will start in the velodrome while the long distance sets off from Busigny (17 miles from Roubaix).  Sportive Breaks will transport all long distance riders & bikes to their start. Ride the Hell of the North and its fabled cobbled sectors, including the Carrefour de l'Arbre and the Trouée d'Arenberg.  The rides increase in difficulty as they get longer but, with 3 routes to chose from, there is a challenge for every rider.
|   | Distance | Elevation | Difficulty |
| --- | --- | --- | --- |
| Long Route | 105 miles | 2693ft | 4/5 |
| Medium Route | 90 miles | 1374ft | 3/5 |
| Short Route | 43 miles | 820ft | 1/5 |
We offer the largest selection of European Gran Fondo and Cyclo-Sportive events.
Our interest-free payment plan allows you to spread out payments for your booking. *Selected products. Terms and Conditions apply.
We have a team of highly experienced professionals who have been organizing cycling trips for more than 25 years.
We know the routes and we know the roads. We know how the event works and the best hotels for the start and finish. We organize everything for you; transfers, bike transport, additional fuel stops, local guides, mechanical support and more.
Find Out More About Other Cycling Hospitality With Sportive Breaks

2024 Tour de France – The Alps to Nice Tour 8th – 22nd July 2024 See our flexible bookings payment plans. View Details. Days 15 Nights Cycling and Spectating pre-register £100 Book now Book now 2024 Tour de France Tour with Sportive Breaks The 2024 Tour de France dates are: Sat 29 Jun 2024 – […]