Ridley Bike Rental with Sportive Breaks
The Fenix SLiC is the result of the continuous evolution of 3 generations of endurance bikes. Back in 2012, Lotto Soudal was looking for a real cobblestone bike. A comfortable bike but with aggressive handling. Hence, the Fenix was born. This Fenix SLiC is our top endurance bike. It combines aerodynamics, thanks to fully concealed cables, with comfort and sublime power transfer.
The rear and top areas of the bike are completely dedicated to comfort: thin rear triangle, 27.2mm seat post and curved top tube. The wide bottom bracket, diamond-shaped down tube, wide head tube and reactive fork are designed to directly convert all your power into speed. Every Watt = Max Speed. Perfect for any rider who wants one bike that shines on any course.
PLEASE NOTE THAT THIS BIKE DOES NOT COME WITH SPARE TUBES OR A PUNCTURE REPAIR KIT SO PLEASE BRING YOUR OWN
Ridley Bikes
Ridley Fenix SLIC equipped with Shimano Ultegra Di2.
Full Bike Spec – [RIDLEY]Frame Passport Fenix SLiC | Ridley (ridley-bikes.com)
Available Sizes: S, M, L and XL
Fork – Fenix, 30T-24T HM UD Carbon, TA 12×100 mm
Stem – Forza Stratos // 110 mm // Black Glossy
Handlebar – Forza Cirrus // 42mm (cc) // Stealth Black
Brakes – Disc
Tyres – Vittoria Rubino Pro G2.0 // 700x25c //Folding 
Rear Mech – Shimano Ultegra R8000 // 11s // Long Cage (34T)
Shifters – Shimano Ultegra Di2
Cassette – Shimano Ultegra
Saddle – Selle Italia XR // Black
Seat Post – Forza Cirrus // 24mm Offset // 350mm // 27,2mm // Stealth Black
What is not provided:
*This may vary by event. Please check the exact details for each event before booking.
Pedals
Please note that you need to bring your own pedals that go with your shoes. Our mechanic can put your pedals on the bike for you. Sometimes it is possible to pre-book pedals, but you must let us know in advance and check availability. The below pedals are available:
Look Keo pedals.
SPD-SL pedals.
SPD-pedals.
Ridley Bikes are available on:
Gran Fondo Strade Bianche
Calpe Training Camps
Gent-Wevelgem Sportive
Tour of Flanders Sportive (We Ride Flanders)
Spring Classics Tour
Paris Roubaix Challenge
Amstel Gold Race
Ardennes Classics Tour
Liege Bastogne Liege Challenge
Mallorca 312
Marmotte Gran Fondo 
Etape du Tour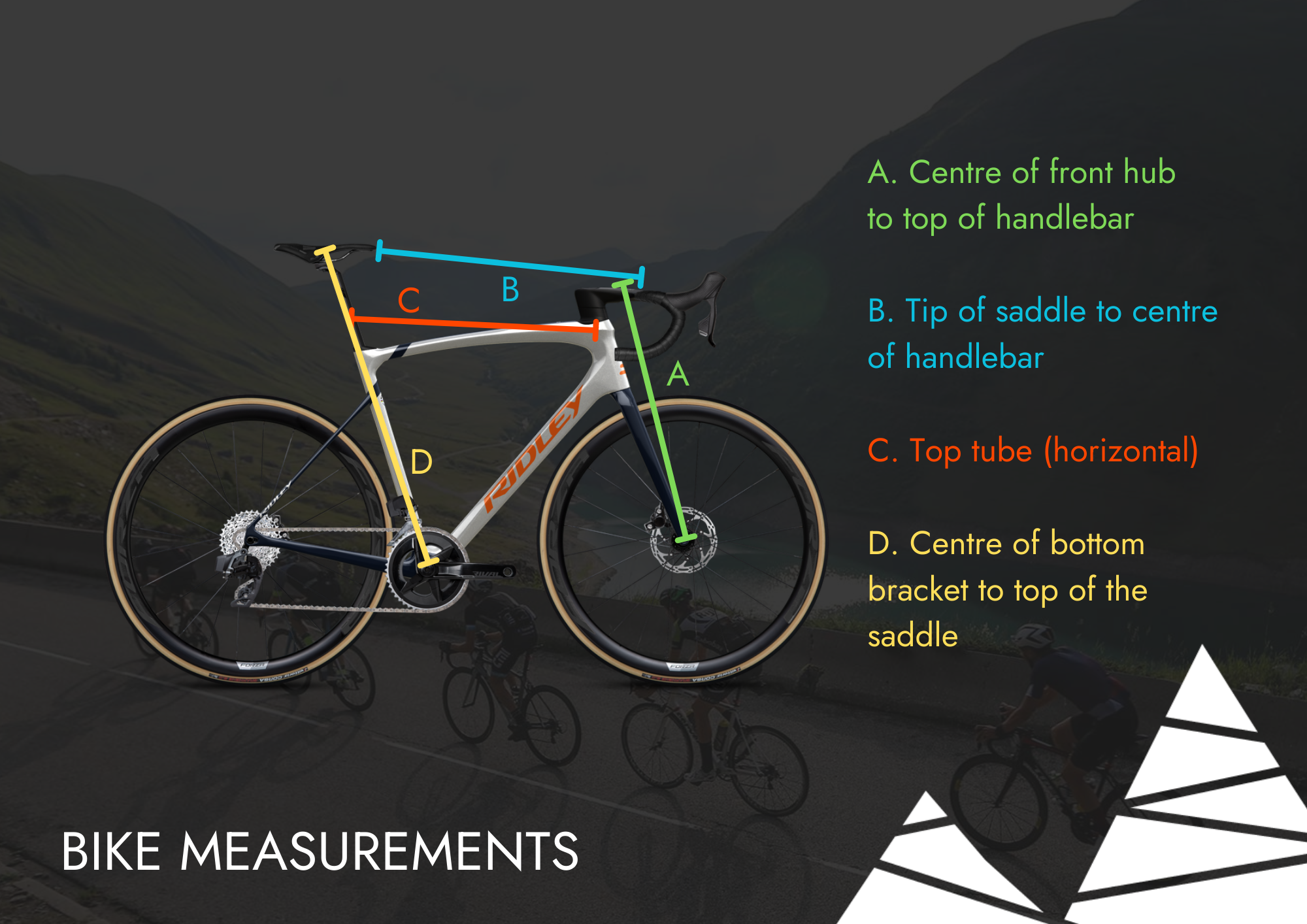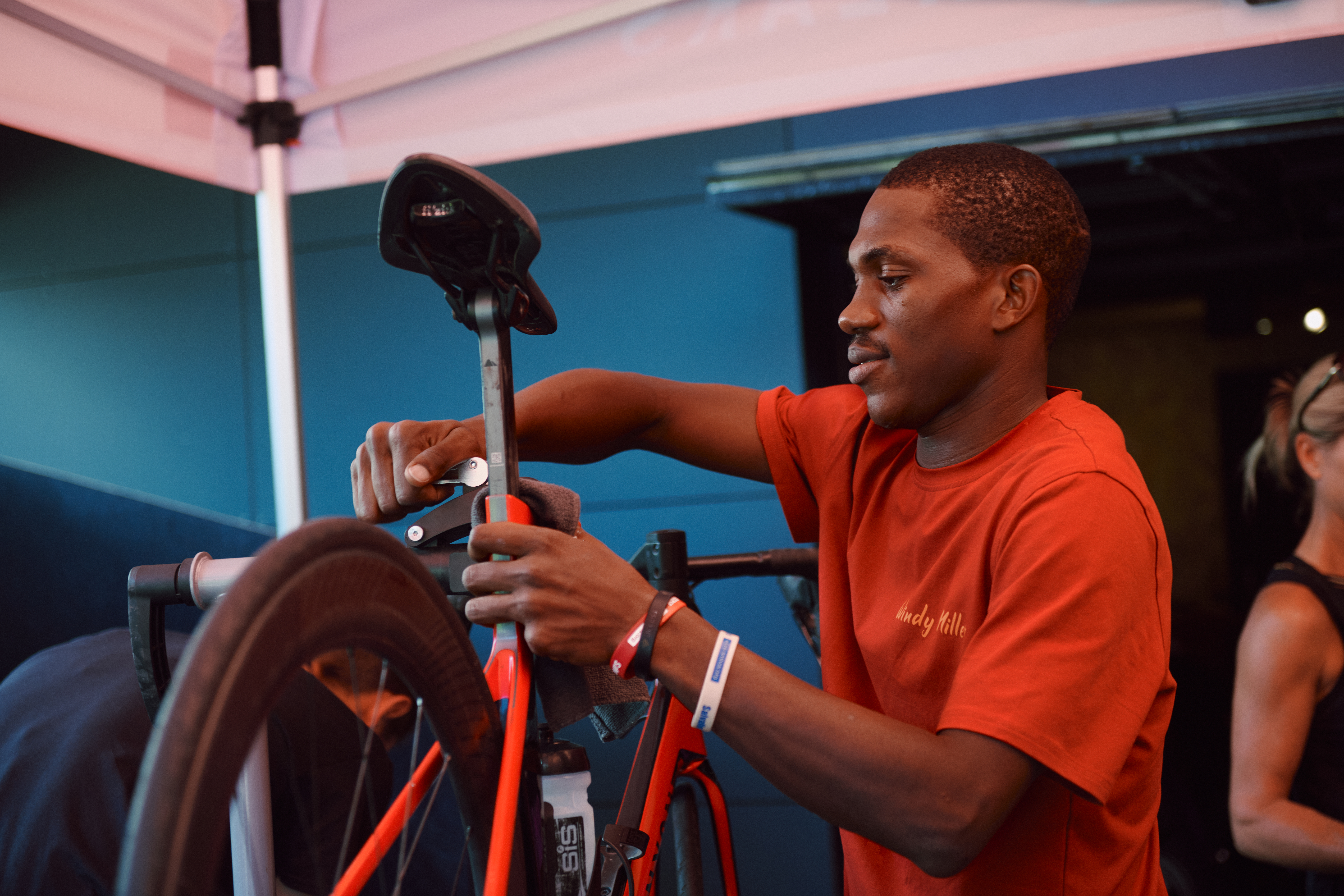 Bike Fit Sheet
When booking your bike with us we will ask you to provide us with some information. With this information, we hope that your bike will be waiting for you at the beginning of a bike trip with a nearly perfect fit. On the first ride, you should listen to your body and see what adjustments need to be made. If you are on a guided tour with us, our mechanic will be on hand to assist you. If you have had a professional bike fit done, then this document can also be provided.
About you:
Height:
Inseam (also referred to as seat height):
Your personal bike:
Make and model:
Size as claimed by the maker:
Bike fit measurements:
You must measure how the contact points (saddle, pedals, handlebar) relate to one another (in centimetres). Please refer to our chart with bike image.
A – measurement in cm
B – measurement in cm
C – measurement in cm
D – measurement in cm