UCI BMX RACING CHALLENGE WORLD CHAMPIONSHIPS 2023
Official fan and amateur participant travel and experiences provider of the 2023 UCI Cycling World Championships in Glasgow and across Scotland
£499 GBP Per Motorhome Pitch
The UCI World Championships are coming to Scotland in August 2023. Sportive Breaks are the official fan and amateur participant travel and experiences provider of the 2023 UCI Cycling World Championships in Glasgow and Scotland.
The 2023 UCI BMX Racing Challenge World Championships will be hosted at the Glasgow BMX Centre in Knightswood, Glasgow as part of the first ever multi-discipline Cycling World Championships, taking place throughout Scotland between 3 – 13 August. The BMX Racing Challenge World Championships competition will take place from Sunday 6th August to Wednesday 9th August, with training days prior to competition.
These Championships, featuring 13 World Championships across 7 disciplines including BMX Racing will be the biggest showcase of two-wheeled action that the world has seen. It will also be the first time the BMX Racing Challenge World Championships have come to Scotland, taking place at the same venue that hosted the 2018 European BMX Championships.
The World Championships are the one-off, single chance to win World Champion medals and coveted rainbow jerseys, with all riders representing their countries.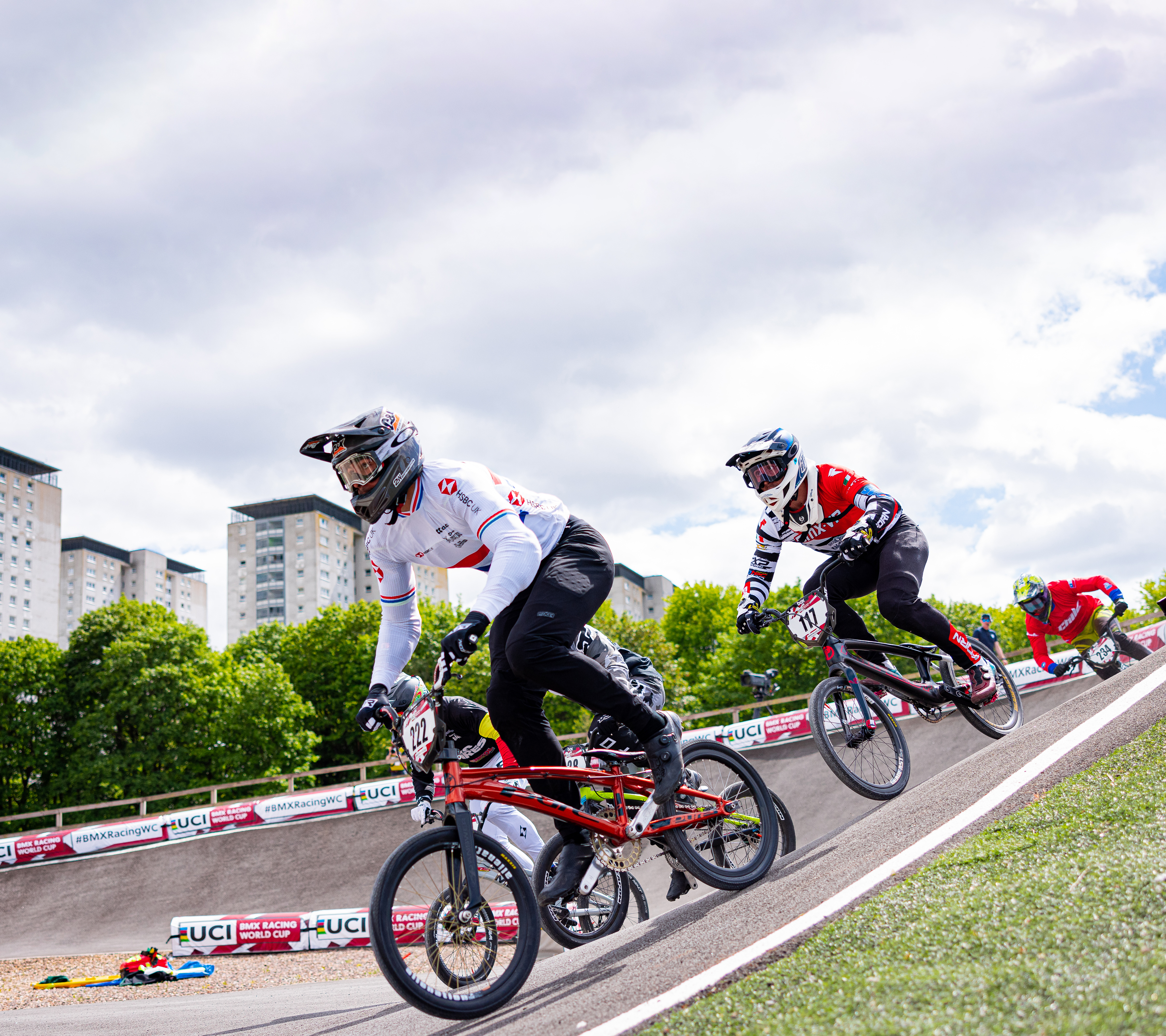 Exclusive Motorhome Campus: Book a motorhome pitch at a motorhome campus for this event at an ideal city centre location in Glasgow
Event transfers included: We will transport you and your bike from the motorhome campus to the event with a regular shuttle service
Price per motorhome pitch: Prices are provided for each motorhome pitch – all persons are included in this price 
Choose your trip to the 2023 BMX Racing Challenge World Championships from 2nd - 10th August
The Glasgow BMX Centre is a hugely technical track with massive jumps and berms, specifically built for the 2018 European Championships. The track is 400m long and only 5m wide – riders will line up 8 abreast on the 8m high start gate before it drops and they are off at crazy speeds! The first two straights feature huge jumps, massive doubles and triples that will see the riders soaring through the air shoulder to shoulder. Rounding out the berms, the first rider into the first corner – also known as a berm – will take the holeshot and go into pole position for the second straight. By the third and fourth straights the jumps become smaller and riders will be using their exhausted bodies to 'pump' through the rollers and carry as much speed as they can as they lunge to the finish line. At the start of competition, all riders will take part in three qualifying heats called 'motos'. From these, the fastest riders will progress into Quarter and Semi-Finals and then on to the Finals – the fastest 8 riders all battling for the highly prized rainbow jersey. Expect thrills, and spills, in these hugely fast and competitive races for everyone from 8 years old up to 50+ years old!
Available packages for the 2023 UCI BMX Racing Challenge in Glasgow
Book this package for a motorhome pitch at a motorhome campus for 8 nights, in Glasgow, from Wednesday 2nd August until Thursday 10th August.
Included with this package:
8 nights Standard size (up to 6m length) motorhome pitch at a motorhome campus in Glasgow. There is a supplement for larger pitches, see costs below
All persons staying within the motorhome are included in the price
Access to catering facilities, payable locally
Transport to and from the Glasgow BMX Centre on practice and competition days for riders and spectators involved in that session and their bicycles. Access to the shuttle service will only be given to those with wristbands.
Please note there is no power provision or access to Wi-Fi.
Booking process
To book you space in the motorhome campus, please click on the BOOK NOW button – this price is for one motorhome pitch.  The Lead person making the booking must register with his/her name.  A deposit of 50% of the total cost is required at the time of booking, with the balance payable 6 weeks before arrival
Later you will receive an email with a link to register the following details:
Number of people in the motor home
Number of athletes per motor home
National federation (to help with the training days)
Age group
Gender
Categories competing in
The day you are planning to leave, if prior to 10th
Costs:
| | |
| --- | --- |
| Pitch Size | Cost |
| Small pitch (up to 6m length) | £499 per pitch |
| Medium pitch (up to 9m length) | £550 per pitch |
| Large (over 9m length) | Price on application – please contact our office directly on +44 (0)161 676 0390 |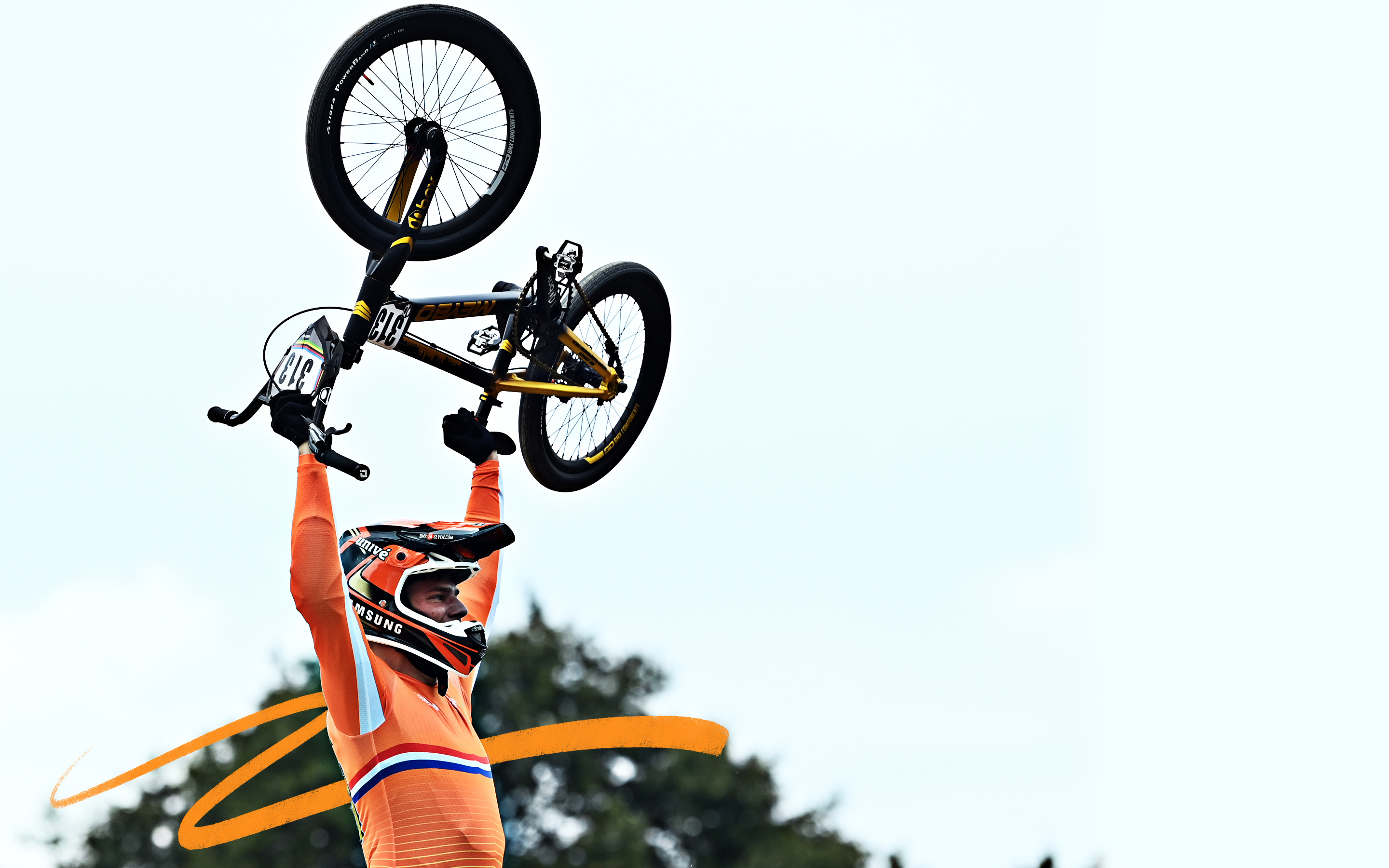 Itinerary: Package 1 – 8 nights motorhome pitch at the SEC Campus
More About the 2023 UCI BMX Racing Challenge Class World Championships Packages
Campus Rules
Sportive Breaks/SEC/GCC take no responsibility for any belongings/possessions – all possessions are at owner's risk.
Only those pre-registered and issued with wristbands will be allowed onto the campus – no exceptions.
Lights out and no noise after 10pm
Motorhomes must be parked within the allocated pitch and all belongings should be kept within the designated area.
Alcohol may not be consumed outside of the interior of the motorhome
Gas Barbeques will be permitted, but not disposable or coal barbeques with naked flames.
Generators are permitted but must be switched off after 10pm
Any rubbish must be disposed of in marked bin areas.
Dogs / pets are allowed by must be kept under control at all times.  They will not be permitted at the Glasgow BMX Centre, except for Guide Dogs.
Waste Water facilities are available, do not empty your waste water onto the car-park
Follow the instructions of the stewards at all times
If anyone is in breach of the rules they may be asked to leave the campus immediately.
Venue
Glasgow is easily accessible by rail or road links – with Glasgow Central the main train station for arrivals from the south and Glasgow Queen Street from the north. There are excellent motorway connections to the city. You can also arrive into Glasgow International Airport and make use of the regular airport shuttle bus service which will take you right into the city centre.
The Glasgow BMX Centre is located to the west of the city centre, in Knightswood, close to train stations and bus links. It's a dedicated BMX racing facility,  with a large purpose built start ramp, jumps and berms.
If you are planning on driving and parking in Glasgow, please be aware of the Low Emission Zone within the city centre, which will be in place from 1st June.
About the Event
The 2023 UCI BMX Racing Challenge World Championships will take place in Scotland for the first time. In 2018 the European Championships took place at the newly built Glasgow BMX Centre where it was a British 1-2 in the Men's race with Kyle Evans and Kye Whyte making the most of a partisan home crowd. In 2022 the UCI BMX Racing World Cup took place at the same venue, which is now world-renowned for it's huge and technical jumps and features. BMX Race has grown in popularity amongst sports fans since being added to the Olympic programme in Beijing in 2008.
Riders will firstly take part in three heats – called motos – which will act as a knockout from which the fastest riders will progress into a series of finals. 8 riders take on the track each race, lining up shoulder to shoulder on the start gate. With four straights and three berms, and plenty of massive jumps to negotiate before they reach the finish line, BMX Racing is a true test of skills, experience and physicality.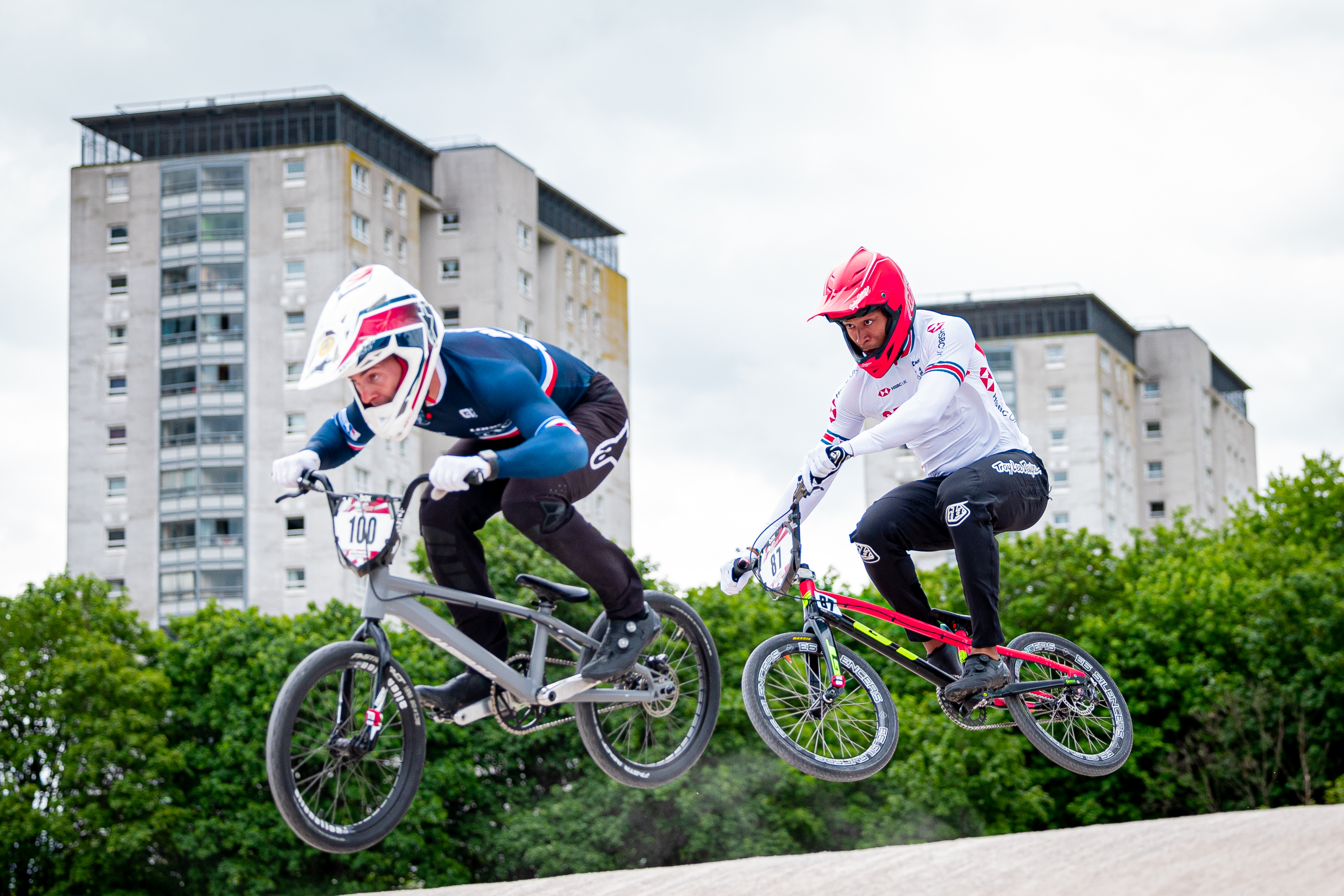 Sportive Breaks are part of the Destination Sport Experiences Group. When clicking on the booking link below, you will be taken to the Destination Sport Experiences booking engine. If you have any questions, please do contact our team
[email protected]
2023 UCI Cycling World Championships
3 - 13 August
In the first event of its kind - never seen nor cycled before - the world's greatest riders will come together in Glasgow and across Scotland in August 2023 to compete at the highest level over thirteen world championships. Across various venues in Scotland we will celebrate cycling and cycling culture for the first time with this many cycling disciplines on show in the same location. Don't miss out and be part of this once in a lifetime event with Sportive Breaks